For ceramic bases.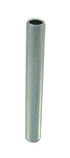 The most common type of fixing a lamp holder onto the ceramic item is an Allthread with a nut either side of ceramic lamp.
Depending on how high you want the lampholder to sit above the ceramic fitting we have listed all 4 sizes for you to choose.
75mm Allthread 100mm Allthread 200mm Allthread 300mm Allthread
You will need a 10mm nut and washer either side of ceramic lamp to hold the allthread in place, but before you put the metal nuts on, you will need to put a plastic washer between the steel washer and ceramic lamp on the inside, this will prevent the metal washer or nut from grinding against the lamp and saving risk of damage to lamp.
Plastic washer 10mm steel nut 10mm Steel washer
Now that the fixing point is complete you need to have a think on how the Allthread will look after the lamp holder has been screwed on.
The more common solution's are a nut cover these come in colors chrome and brass
Brass nut cover Chrome nut cover
So thats the nut covered now we may or may not need to cover the Allthread with a brass or chrome Allthread cover tube.
Depending on how high you have the allthread there are 5 different sizes of tubing, this may change your mind on how high you have your allthread.
Brass 38mm long Brass 3" long Brass 4" long Brass6" long Brass 300mm long
Chrome 1.5" long Chrome 3" long
An Alterntive solution is a spacer tube male and female thread either end, this is if you have a small amount of thread sticking out of lamp, this is a easy way to extend the thread you have there allready. These come in brass and nickel
Brass 38mm spacer Brass 75mm spacer Nickel 38mm Spacer

After this stage is complete you now want to think about cable protection, it is the most important aspect of the build as if a cable rubs up against the metal allthread or lampholder, it could turn danergous.
You will need to use 2x tube grommet's for the allthead rod.
Now its cable time!
If you have picked a lampholder with the switch on then you need one of these cord set without the in-line switch.
For metal lampholders with earth.
Gold 3 core un-switched White 3 core un-switched Black 3 core un-switched
Plastic lampholder that dont need an earth.
White 2 core un-switched Black 2 core un-switched
If you selected a lampholder without a switch then you will need to have one on the cord set. So below are cord sets that have a moulded plug and in-line switch.
For metal lampholders with earth.
Gold 3 core switched White 3 core switched Black 3 core switched
Plastic lampholder that dont need an earth.
Gold 2 core switched White 2 core switched Black 2 core switched
After finding the cable your after you then need to be able to hold the cable into a safe position, we dont want the cable to be pulled out by accident.
There a several types of cord grips that you could use.
If you have a small hole for a cable to come out of side of lamp and a large hole on base you could use one of these. They are added to the flex so that it sits just behing the hole and stops the flex being pulled out.
If you dont have a large hole in base to get you hand inside lamp then you may be able to drill a 10mm hole for the cable entry, and use a male threaded cord grip with a big of glue to hold it in place.
Black flex cord grip White flex cord grip